Spa & Salon Business Management Retreat
(LIMITED SPACE AVAILABLE)
THE REASON FOR LIMITED SPACE: We limit the class size to just 15 people. This way we have enough talk time for everyone and you can get specific answers to specific questions that relate to your business.
Monday June 19th & Tuesday June 20th, 2017
Hockley Valley Resort
Our training and development programs are carefully designed to meet the specific needs of personal development in the spa and salon industry. Each program is vigilantly crafted to bring up to date information and tangible tools you can implement in your spa, salon, or medispa today.
Spaformation courses are delivered by trained professionals with comprehensive and detailed knowledge and experience in the spa, salon and medispa business. Tremendous results to your bottom line and overall operations can be achieved by attending this course.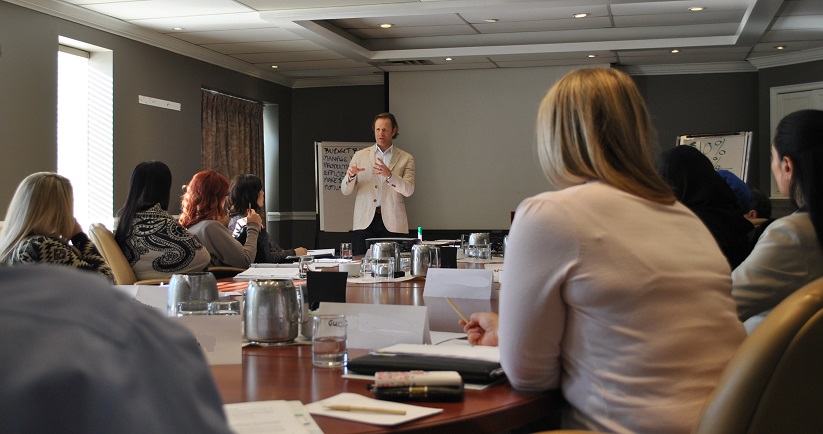 Join Us!
Spa Management Training Retreat
June 19th & 20th 2017
Success starts at the top and it is vital the leaders are walking the walk. With the benefit of extensive management and training experience we have carefully created our intensive spa and salon management course that will continue the development of the most seasoned veteran or the manager in waiting.
$1395.00 + HST
Additional attendees from the same organization are half price!*
(*Limit of one half price attendee for each full price attendee)
REGISTER NOW
JUST SOME OF THE SPA AND SALON MANAGEMENT RETREAT BENEFITS:
DRIVE revenues

REDUCE expenses

INCREASE client satisfaction & retention

INCREASE staff satisfaction & retention

IMPROVE operational efficiencies

DELIVER exceptional experiences

Bring accountability and productivity to your business
FEATURES
Our program will leave you with tangible and meaningful skills and tools to take back into the business environment and create positive change immediately.
Attendees receive a complete manual including all areas of discussion, copy of all operational templates (in Word of Excel formats) and examples.
These spa management programs will support your overall team goals by training managers and owners on how to manage themselves and the team they lead. Certificate is received upon completion.
IMMERSE YOURSELF IN THE LEARNING
We have chosen a slightly more private location for our retreat so you can come and focus on the learning and the changes you want to make.
Instead of rushing back to work or home, why not stay Sunday and Tuesday nights?
A GREAT PLACE TO SHARE & LEARN: Perhaps get a spa treatment or hang out with your industry colleagues and share, learn and grow.
Not only can you take care of yourself but take better care of you, your team and your business.
SPA MANAGEMENT RETREAT OUTLINE
Monday June 19th & Tuesday June 20th 2017
$1395.00 + HST
Speak the same language: Additional attendees from same organization are half price!*
*Limit of one half price attendee for each full price attendee.
Finance & Budgeting
Budgeting

Profitable operations

Financial smart
Effective Menu Planning
Pricing efficiently

Competition

Value-ads
Keys to Spa & Salon Profits
Inventory control & purchasing

Operational control

Retail Sales
Compensation Strategies
Determining pay rates

Different pay structures

Setting salaries, commissions & Bonuses
Motivating your Team
Hiring and training for high performance

How to coach and lead for success

Creating a positive Work environment
You can drive daily if you live in the area or perhaps enjoy some wonderful hospitality while you learn.
Resort Package Includes: (Booked directly with Hockley Valley Resort)
Deluxe Resort Room
Dinner on Monday 19th
Delicious Breakfast and Lunch on Tuesday the 20th.
Refreshments will be provided by Spaformation during the retreat.
We have negotiated special rates with the Resort for our retreat attendees
---
$273 Single Occupancy, per person per night, plus tax and gratuity. This rate is applicable Monday night.
$179 Bed & breakfast rate available for those wishing to stay the night of Sunday June 18th or Tuesday June 20th. (per person per night, plus tax and gratuity)
---
Check in Sunday night and leave on Wednesday morning after the program feeling motivated and renewed.
Please contact Hockley Valley Resort to book your resort package after you have registered for our training.
Check out all there is to offer at hockley.com
Hockley Valley Resort Phone: 416 363 5490
Note: Refer to "Spaformation Retreat" when booking your room.
Resort Amenities: (just a few)
8,000 Square foot European Spa
Indoor & Outdoor pool, Whirlpool, Sauna
Exercise Facilities
Golf Course
Check it out all there is offer at hockley.com
Additional Attendees from the Same Organization get
HALF PRICE FOR COURSE REGISTRATION!
(*Limit of one half price attendee for each full price attendee)