Spa Business Management Retreat –
BUSINESS POWER
(LIMITED SPACE AVAILABLE)
THE REASON FOR LIMITED SPACE: We limit the class size to just 15 people. This way we have enough talk time for everyone and you can get specific answers to specific questions that relate to your business.
Monday, May 27th- Tuesday, May 28th 2019 (2 Full Days)
Vancouver, British Columbia
Our training and development programs are carefully designed to meet the specific needs of personal development in the spa industry. Each program is vigilantly crafted to bring up to date information and tangible tools you can implement in your spa or medispa today.
Spaformation courses are delivered by trained professionals with comprehensive and detailed knowledge and experience in the spa and medispa business. Tremendous results to your bottom line and overall operations can be achieved by attending this course.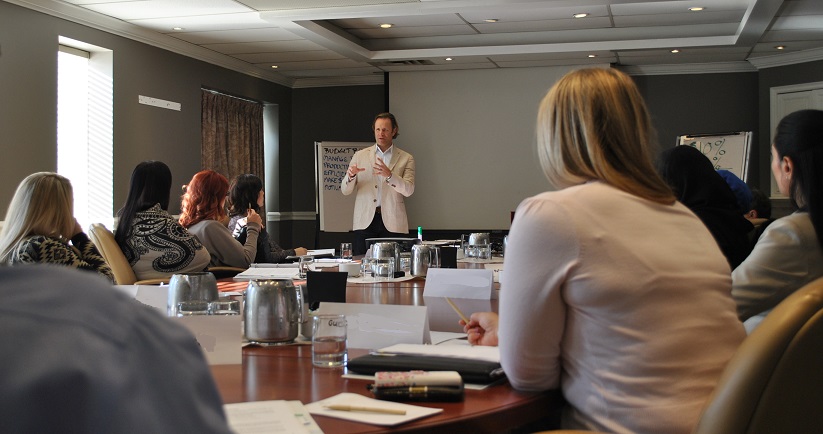 Join Us!
Spa Management Training Retreat –
BUSINESS POWER
May 27th-May 28th 2019
Success starts at the top and it is vital the leaders are walking the walk. With the benefit of extensive management and training experience we have carefully created our intensive spa and management course that will continue the development of the most seasoned veteran or the manager in waiting.
Additional attendees from the same organization are half price!*
(*Limit of one half price attendee for each full price attendee)
JUST SOME OF THE SPA MANAGEMENT RETREAT BENEFITS:
DRIVE revenues

REDUCE expenses

INCREASE client satisfaction & retention

INCREASE staff satisfaction & retention

IMPROVE operational efficiencies

DELIVER exceptional experiences

Bring accountability and productivity to your business
Monday May 27th- Tuesday May 28th 2019
SPEAK THE SAME LANGUAGE:
We want you to be able to go back and implement the learning as fast and as efficient as possible. So when you bring another team member who will be helping to make changes we give you a GREAT incentive.
Additional attendees from same organization are half price!*
*Limit of one half price attendee for each full price attendee.
FEATURES
Our program will leave you with tangible and meaningful skills and tools to take back into the business environment and create positive change immediately.
Attendees receive a complete manual including all areas of discussion, copy of all operational templates (in Word of Excel formats) and examples.
These spa management programs will support your overall team goals by training managers and owners on how to manage themselves and the team they lead. Certificate is received upon completion.
Primary Learning Topics:
• Financial Performance and Budgeting
• Compensation Strategies
• Marketing Power
• Keys to Spa Profits
BUSINESS POWER – COURSE OUTLINE
Financial Planning & Budgeting
Budgeting and Planning
Profitable Operations
Financial Smarts
Cost Controls
Procedures and Manuals
The Reception Team
Suppliers
Technology
REGISTER NOW
Compensation Strategies
Determining pay rates
Different pay structures
Setting salaries, commissions and bonuses
Marketing for Results
Creating a marketing plan
Successful promotions
Social Media and Communications
REGISTER NOW
Additional Attendees from the Same Organization get
HALF PRICE FOR COURSE REGISTRATION!
(*Limit of one half price attendee for each full price attendee)