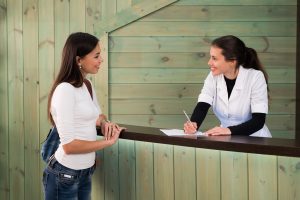 As spa consultants we always get asked what makes one spa better than another, what services do I need to implement to be on top, how do I outshine the competition? The answer is an easy one…. Dazzle your customers with great customer service. It sounds simple doesn't it? 
The concept of great customer service is a simple one, but unfortunately it seems to be difficult to implement because so many places have a really hard time being consistently great at it.
We believe that investing in training your staff on how to properly service your clients is a better investment than the latest technology or even re-decorating your spa. 
Elevating your customer service standards means going beyond being the order taker. It means you have to go above your customers expectations and set an impression that they will talk about for years after. 
In this article we will address 5 steps towards achieving great customer service. The key is to manage this philosophy each and every day.
5 Simple Steps to having SKY HIGH Customer Service:
1. Treat Every Customer as 10 Potential Customers:
Always remember the multiplier effect the minus 30 rule, plus10 rule. What this means is people who have a bad experience are likely to tell 30 other people about that experience, but if they have a good experience they will likely spread the news to 10 other people. In the spa world word of mouth is the biggest form of advertising, so it is important to remember the 10 multiplier. Remember for every customer that walks through your doors, you are not just serving them you are serving their friends and family that they will tell about their experience.
Therefore make every interaction count and make it exceed all their expectations. Address this multiplier affect in your next staff meeting. By bringing it to your teams attention, they will be more aware of their actions when servicing your clients.
2. Training and Education is Key:
Do not expect your staff to know your standards through osmosis. You need to continually train your staff on what exactly your customer standards are but also give them specific examples of how to deliver it. For example: be specific regarding the ways in which to greet a customer when they walk in the door. Greet the guest before the guest greets you. Have a standard welcome. Many times spas have a standard greeting on the phone but they don't have a standard greeting when the guest walks in the door. In fact many times when the customer first arrives we notice the standard fall apart. How many times have you walked into a spa and the receptionist was too busy to greet you right away? Don't get caught having this happen at your spa.
Education is also essential. Your staff needs to be aware of all the products and services you offer. This means that they should be able to talk with confidence about every product you sell, right down to the benefits and some key active ingredients of each.
Your staff should have experienced all the services you offer so they can talk to your guests about them fluently. Could you properly describe a fabulous meal if you had never eaten it? Your staff can make your menu sound delicious if they have had a chance to experience it.
The better educated your staff is, the better they can serve your customers. When your staff is properly versed concerning all the ins and outs of your spa, it builds customer trust and loyalty. Your customers will feel like their needs are being met and they will feel safe.
Set up training with your product reps at least every quarter to ensure all team members are up to date with the lines you carry. Also have the product Reps perform frequent and regular training on the treatments you offer and make sure there are protocols to follow so there is consistency. 
Remember training is not a one time thing and should not only be for new hires. Especially in the spa business with changing technology and trends, it is so important to keep a head of the game. This means that all team members, service providers and reception team members, and even the most seasoned veterans, need to be continually trained and educated. This will give them the tools to best service your customers.
3. Set Sky High Standards and then Evaluate your staff
Take time to go through your operation and set standards for each and every instance where you team comes in contact with the guests. When setting the standards make sure you understand what a good standard is and then decide what a SKY HIGH standard is. You can differentiate your spa from the competition by doing the little things better than everyone else.
Once you have set the standards you want to insure that customer service a part of your staff's job performance evaluation. It is essential that your team is constantly reminded of how performing sky high customer service is an important part of their job. Having this as part of the evaluation process will keep them on track and consistent. 
Make sure you encourage customer feedback in order to give your team tangible feedback. The best way for your staff to know how they are doing is to hear it from the customers.  Make your customer feedback forms easy and attractive to fill out. Have a monthly draw for your customers to win by participating in giving feedback.  The more advice and feedback you get from your customers the better you can evaluate your team. We always recommend having evaluations set every six months. This is a manageable time for managers and it gives a good period of time to make a detailed assessment on the team member's performance.   
4. Reward their Performance:
Recognize outstanding customer service performance amongst your team. This can be through verbal praise in private or at a team meeting.  You can also give rewards such as gifts, products or dinners etc.
You can also join the team member's exceptional performance to their pay. Once an evaluation is done you can give them a customer service bonus that needs to be re-earned every evaluation period. This will keep your team motivated and act as a constant reminder regarding the importance of providing excellent service. 
Score Evaluation System:
You can have a score system in place where they need to achieve a certain score in order to earn a pay bonus. You can set these standards and decide what this pay bonus is going to be. We recommend it being anywhere from $0.50- $1.00 or 2-3% service commission, in order to manage your labour cost and it must also be significant enough to make a difference in their pay. 
5.  Service them out of the treatment room:
Sometimes we forget that the customers spa experience is not just what happens in the treatment room but also the before and after. This means we need to service the customers from the first phone call before they book their service, to making a follow up call after the service is long over and they have gone home. 
In order to leave lasting impressions it is important to show the customer you really care and appreciate their business. Give them the time they deserve when making a booking and then show them you care by contacting them to see how they enjoyed their services, or even to inquire about any post treatment questions they may have.
Have a customer service checklist provided for your staff that informs them in detail how every interaction with the customer should be outside the treatment room:
Example:
Standard Welcome greeting when the guest arrives. Greet the guest before the guest greets you.

Taking them on a tour of the spa before the service

Make it part of your policy to show the guests around on a mini tour so they are aware of the facilities and where they are required to be after they get dressed. At this time it is also a good idea to ask them if they have any questions.
Greeting them for a treatment in the waiting room

Have a standard greeting with a hand shake and make sure they look the guests in the eyes. 

Escort them back to the waiting room

Always offer and serve them water or tea

Indicate that it was your pleasure to have them and you hope to see them again

Checking out and paying their bill

Ask them how everything was and look them in the eyes

Ask if they have any questions about products

Thank them for their business and say you look forward to serving them again

Follow up calls the next day

This is a great way to show your customers you care after the visit is over. Ask them how everything was and if they have any questions.

 

State again how it was pleasure to have them.
Dazzle your customers with SKY HIGH service and you will not need to worry about the competition.  Customer service does not cost money, but it does take commitment and dedication from the whole team in order to ensure its success. Every team member needs to be on board because you are only as strong as your weakest link. Make sure you make this a priority in your interview process. Hire people based on their customer service skills, it is easier to train them on the technical part. 
When you give your full effort towards creating and sustaining a culture of SKY HIGH customer service you will see the smiles on your customer's face and SKY HIGH bottom line. To book a consult please email [email protected] or a Discovery Session here.