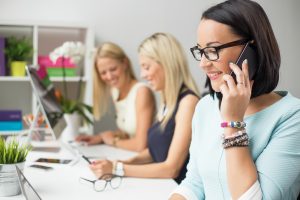 Building a successful spa business heavily depends on the quality of its spa reception team. As such it pays to invest in the people comprising that team.
Here are some positive changes for an effective spa reception team. Implement these to enhance service delivery through a better, happier and more capable team of receptionists.
Hire the right skillset
They say you can't teach an old dog new tricks. Some weaknesses are inherent in the person, and if you hire a person who is lacking, say, the essential communication skills needed in a receptionist, man, you are doomed.
No amount of training might be enough for such a person. The chances are that they are better at doing something else.
Be sure to get a minimum skill set before you hire. This process can be as simple as integrating the basics such as computer typing, spelling and math tests.
Further, the person will be handling nearly all your client communications. Some of the clients will be judgmental and may readily form opinions from their first interaction on the phone. As an insurance against such eventualities, drop a mock phone call into the very first meeting with this recruit.
The secret is to be thorough and sieve your applicants to ensure you secure the top cream for your spa.
Train your recruits
Even the best staff needs on-job training. Take your reception team through orientation training. This involves communicating to them all your company policies and essential procedures immediately they are hired. They should understand the organization.
Train them about the product. Refresher courses are a perfect option here. Just be sure to have them understand every aspect of you product.
How should they handle clients? How do they communicate effectively and sales efficiently? Train them about that too. Don't just assume they know.
All said and done, ensure you have set dates when your spa receptionists meet and review performance, eliminate mistakes and draw their plan of work.
That's recognition at its best. It will cement their solidarity and solidify their sense of recognition.
These are feelings that motivate a worker.
These are changes that will motivate your spa receptionists. 
Learn more about how your spa receptionists are the cornerstone of your spa business here.