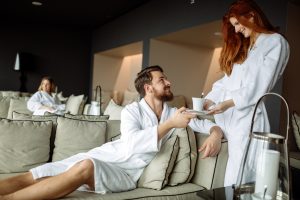 Couples services are a retreat of choice for the frantic partners who can only escape for a short window of time.
In the past few years, one of the hottest trends in the spa market has been the creation of rooms and spaces where partners can feel free and safe, all at the same time, to enjoy some a few moments of solitude to relax and unwind from the pressures of life. Couples services can be the highlight of your business or bring you down. 
THEY COME FROM EVERYWHERE
Is the spirit of political correctness the term "Couples room or service" needs to be stretched a little and it may be bigger than you are thinking of. It starts as a couple in the traditional sense of the word, two people in a relationship. The most common market asking for treatments is man-woman. At Novo/Sanctuary Day Spa (www.novospa.ca) in Toronto's trendy Yorkville district this is their primary market. "Since we opened our doors the couples rooms has been our number one seller," says Novo creator Nora Londono. "The vast majority are men and women with a few friends and sisters."
The market of couple's spa services has naturally expanded to same-sex couples. Outside the city, at the quaint and classy Millcroft Inn (www.millcroft.com) the couple's room gets a workout on weekends. "It is a great problem to have but we are constantly having to tell our weekends guests we cannot accommodate them because the room is full," smiles Spa Director Jennifer Stemmler. "We have a terrific demand from our overnight guests whether they are man/woman or same sex couples. They love the privacy and safety of our couple's room. In the summer they can even go directly outside and sit on their private deck and enjoy the fresh country air." So popular in fact, that the Millcroft Inn is looking at expanding and adding another couple's room to their inventory to satisfy the demand.
Couples also refers to a "couple of sisters", a "couple of friends", or a little more loosely translated to mothers and daughters. All of these markets are migrating to capture the spirit of togetherness couples treatments can create. You need to think of this when marketing your couples spa services.
GROWING BIGGER
The concept of having a room big enough the room with simply two massage tables has long passed. Spas are now competing to build them bigger and better. In Barrie, Ontario, Spyce Spa & Salon (www.spycespa.com) owner Debi Board wanted to make her "Couples Suite" as one of her signature spaces. "I wanted to create a space where two people could flee everyday life and enjoy peace and serenity". To do this Board had a couples hot tub, oversize glass shower, fireplace, and sitting area all built into the couple's spa space. When asked if it has been as success Board replied, "Since day one it has been the busiest part of the spa. Our guests love it."
EFFICIENCIES OF SPACE
From an efficiency point of view a couple's room seems a no-brainer. A typical spa room will by 10 ft. X 10 ft. space and is able to generate one service at a time. In contrast, a couple's room can fit into a space of only 50% larger, ie. 15 ft. X 10 ft. and generate double the revenue.
However when the desire to expand the "room" to a "suite" the water becomes a little more muddy. 
So why isn't everyone scrambling to do them?
The couple's movement is not sweeping across all the spa doorsteps.
A couple of years ago the calls seemed to be coming in to take up the charge and add a couple's room at the five star Langdon Hall Country House Hotel & Spa (www.langdonhall.ca). "We converted an available space close to the spa to a couples room because we thought there was a demand," explained Alison White Spa Director, "but it just really never took off". A short time later, the space was renovated to take on other uses. It is worthy to note that Langdon Hall has just announced plans to create a grand new Spa & Wellness centre in the next 18 months and a new and improved couples suite will be part of it.
In some cases, philosophy plays a role.
PLAN TO MEET THE CHALLENGES
But that does not mean it is not without its challenges. With this expanded space is the need to insure it is booked. 
Care needs to be taken when designing the space as managing the cross-gender issues between therapist and client is delicate. As well as consideration for the "couple" that is not romantically involved. Couples spa services can be a challenge. 
Unique logistics of handling clients needs to be considered when creating couples spa services. The rooms are booked for defined periods of time and the spa needs to create a tactful way to let clients know when their time is up. Often treatments will be created whereby the couple can enjoy some private time at the enjoy of the service.
Therapists also need to be keenly aware of different dynamics that enter the room when there are two therapists and two clients.
Design and layout must to be carefully considered.
Need help starting or expanding your spa or couples spa services? Contact Spaformation at [email protected]